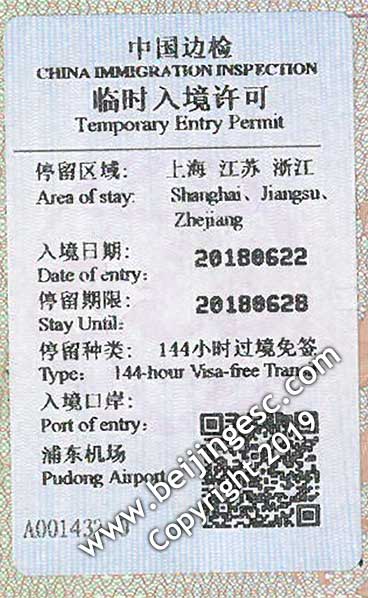 From Jan 30th, 2016, China granted 144-hour visa-free transit for foreign visitors at Shanghai, Hangzhou and Nanjing.
The measure of 144-hour Transit Visa Exemption for Foreign Nationals from 51 countries destined for a third country (region) with booked a through air ticket goes into force as of Jan 30th, 2016.
Foreign visitors, who hold passports issued by the countries on the 144-hour Visa-free Transit Policy List, could apply for a visa-free transit stay in Shanghai, Nanjing and Hangzhou.
Qualified Countries:
Passport holders of following 51 countries (updated on Dec 06 2013) and regions will be granted a visa-free stay of up to 72 hours while in transit via Beijing Capital Airport (PEK) and Shanghai Pudong International Airport (PVG) & Hongqiao International Airport (SHA):
Argentina, Austria, Australia, Belgium, Brazil, Brunei, Bulgaria, Canada, Chile, Cyprus, Czech Republic, Denmark, Estonia, Finland, France, Germany, Greece, Hungary, Iceland, Ireland, Italy, Japan, Latvia, Lithuania, Luxembourg, Malta, Mexico, Netherlands, New Zealand, Poland, Portugal, Qatar, Romania, Russia, Singapore, Slovakia, Slovenia, South Korea, Spain, Sweden, Switzerland, United Arab Emirates, Ukraine, United Kingdom, United States,
Serbia
,
Croatia
,
Bosnia
,
Montenegro
,
Macedonia and Albania.
Qualified Ports:
Shanghai Pudong International Airport, Shanghai Hongqiao International Airport, Int'l Passenger Transport Center of Shanghai Port, Shanghai Wusongkou International Cruise Terminal, and Shanghai Railway Station.
Nanjing Lukou International Airport
Hangzhou Xiaoshan International Airport
Requirements for the visa-free transit:
Holding passports issued by the above

Qualified Countries

,
Holding valid international travel documents,
Qualified for the entry requirements of their third destination country,
Holding valid airline tickets with 144-hour validation and making transit through above

Qualified Ports

to the third country, and reported to Chinese immigration inspection authority by their airline companies.
Restrictions of the 144-hour Visa-free Transit:
This regulation does not apply to passengers who travel on a return flight (e.g., USA - Beijing - USA), which means the destination and place of departure can not be in the same country.
The 144-hour visa-free stay only applies to transit via above

Qualified Ports

.
Visitors are not allowed to leave

Shanghai, Jiangsu provice and Zhejiang province

during the 144-hour visa-free period.
If visitors are unable to depart on time due to unavoidable reasons, such as flight cancellation or treatment of sudden disease, they need to apply for a visa from Municipal Public Security Bureau (PSB). Otherwise.
How can a qualified foreigner apply for it?
A foreign national that meets the requirements may submit his/her request to the airline company that carries him/her and the airline company or the passenger him/herself shall make the application to the border control authorities that shall grant a temporary entry of a passenger meeting the requirements for transit visa exemption upon verification.
Our Latest China Visa Solutions
We have long term visa solution for foreigners who want to live in China, please click to check our solution for you: